Small Engine Service
The small engines you use in your business are your heart and soul of getting your work done on time. Woodchucks will work with you to keep your equipment is good, working condition.

Sharpening saw chains is performed here in our shop. We also sharpen lawn mower, edger, and other items needing sharpening. And, speaking of saw chain, we have a special bench here where we make up saw chain for all makes and models of chain saws.

We also work on electric motors, and generators, including RV generators. Bring your equipment by our shop, we will inspect, and do a bit of troubleshooting, and then consult with you regarding the equipment repair costs. Woodchucks understands your need to have your equipment in good running order, and keeping the repair cost reasonable. Our analysis of your equipment will assist you in the repair or replace question.
Woodchucks services and repairs most types of two and four cycle small engines; small electric motors; generators small and large and RV generators; air compressors, paint sprayers, lawn and turf equipment; sharpening of all types of blades and saw chains; portable water and industrial pumps; and many more, way too many small engines, and generators to list here.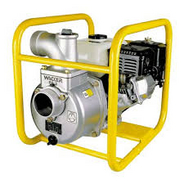 Yes, we do water pumps, of most any size, just bring them in and we will be happy to check them out, be it the engine, or the water pump. Service for pumps performing most any type of work, from pumping out swimming pools, to drying out basements.
Please visit our web page regarding the motor fuels ( motor fuels ) you use in your equipment. If your equipment sits for thirty days or longer, your fuel might be the problem you are having with your equipment. Stale fuels will gel in the tank and carburetor and causing the engine to fail to start or to start and then die. Keeping fresh fuel in the engine fuel tank, and the fuel supply can, plus adding a good fuel stabilizer ( Briggs and Stratton Advanced Formula Fuel Stabilizer), can go a long way in helping to keep the engines running longer, and starting easier.